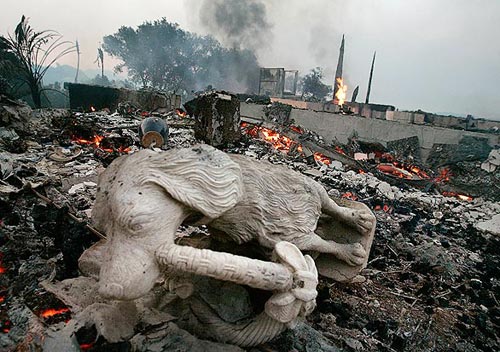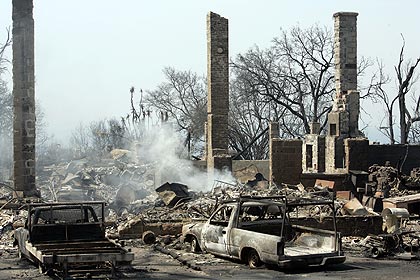 Sadly, brushfire season begins with a vengeance this year in Santa Barbara. I've walked the gorgeous gardens in the Botanical Garden and there are so many beautiful homes around there — this is a sad loss.
With water cuts throughout SoCal this year as well, there's going to be a lot of dry fuel waiting to go up. It could be a very bad year for brushfires.
Officials at the Santa Barbara Botanic Garden in Mission Canyon had big plans for the century-old Gane House, the Craftsman-style home the garden purchased many years ago. They wanted to seek historic landmark status for the building, which was named after the original family that owned it. It was to be restored and become their administrative center.

Last night flames engulfed the two-story building, leaving little more than three brick chimneys standing.

"Obviously we're very heartbroken. It's a large, large loss for us," said Nancy Johnson, the garden's vice president of marketing and government relations. "We were hoping to restore it to its grandeur."

Lost inside were all the gardening tools, horticultural materials, the metal shop that made tags to identify plants, overstock of books published by the garden, and the office contents and computers of the head gardener and facilities maintenance man. Biofuel gardening trucks parked outside also appear to have been destroyed.

The home and garage of Edward L. Schneider, the garden director, also burned to the ground, Johnson said. In addition, they lost a building used to propagate plants and a deck over Mission Creek.

Johnson said firefighters "made a valiant effort to save our other buildings," including the herbarium, the library and library annex and the rare book room. "They really worked hard yesterday to save those buildings so we're really appreciative of that."

She also said the garden was saved by a decision last year to spend between $300,000 and $400,000 on six hydrants. "The firefighters told us that had those hydrants not been installed, they couldn't have saved the other buildings," she said.